Sunday I picked up my long-lost sketchbook and picked out one of my favorite designs for the window.... Monday I got this far:
Created 2 copies of a life-size drawing of the window & picked out glass: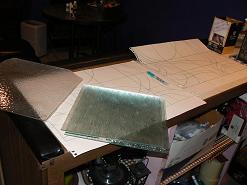 Originally I was going to cut one of the drawings apart to use as a template but I realized that since this window is going to be a combination of many different kinds of clear glass, I can just put the glass on top of the pattern and trace it right on the glass. Yay! Several steps easier!
Started cutting glass: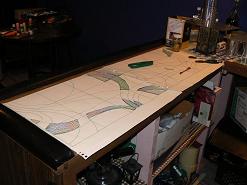 Note: the bar in my basement is
extremely
comfortable for this. The height is a very nice working height. I may move future art nights downstairs - especially while it's still dark and cold and wintry outside.